Karen Aldred
Managing Director
Karen's proudest achievement to date has been to take on the role and responsibilities of Managing Director of Mayday, following a Management Buy Out in 2019. She joined Mayday in 2001, following a career in banking.
Prior to becoming MD, Karen's was our Operations Director. She was responsible for balancing commercial and operational issues, with a real focus on creating an outstanding customer experience in all areas of the business. Karen will continue to drive this forward with the support of our outstanding team of extremely hard working and committed people.
Karen has lived in Norfolk all her life and loves the county and it's people. She strongly supports the 'buy local' message and is a member of the Norwich Business Women's Network. Karen's spare time is spent enjoying the beautiful Norfolk coast and countryside.
Jamie Mulhall
Commercial Director
Jamie  has more than 28 years' experience  in the b2b arena, after a career in  the Royal Navy Jamie embarked on his sales career , and in 1988, moving into technology industry in 1993.
The big opportunity came and joined Mayday as Sales Director 2007, Jamie plays an integral role in the growth and development of the business and oversees the sales teams, sales strategy and continues to deal with our many clients on a day to day basis.
Jamie thrives in a networking environment and passionately believes that face to face connections are a vital part of growing Mayday. Jamie has built an extensive range of local clients.
Many of Mayday customers regard Jamie  as a  friend and when attracting new business potential clients as friends we haven't met yet. Jamie has a sunny disposition and nothing is too much trouble attitude to life, an enthusiastic classic motorcyclist, foodie and now currently learning to play golf…
Having proudly served 5 years in the British Army Adam began his 'Managed Print Solutions' career in 2010.
Adam's infectious enthusiasm compliments how passionate Mayday is in delivering the very best IT and Managed Print Solutions the market has to offer. Adam was keen to make a commitment to the business when buying shares in Mayday in 2016 and later being a key member of the Management Buyout team in 2019.
Outside of work Adam enjoys spending time with his young family and keeping active with golf and regular exercise. Adam completed his first marathon in April 2019 in a time of 4:10.09.
James joined Mayday in 2011, he has successfully progressed his eight year career within the Mayday Service Department, recently being promoted to the companies "Operations Manager".
James responsibilities are to ensure a high level of service is provided within the company and customers.
James has an extensive knowledge in IT, Digital Media and Marketing. His most recent achievement in this field was in 2018 following Mayday's partnership with Norwich City Football Club he was asked to design the official match day team sheets and also various digital animations and artwork to be displayed at the stadium and around the pitch for Mayday branding.
In his spare time James plays guitar in a local band and is a keen explorer who has visited many countries around the globe including, Norway, USA, Singapore, Thailand, Australia, Fiji and New Zealand to name just a few!
Calvin Craske
Service Manager
Calvin joined Mayday in 2012 as an experienced mechanical engineer, his progression within the Service department has meant that in February of 2015, he successfully gained promotion to the role of Service Manager.
Calvin's responsibilities are considerable managing a team of mechanical engineers, who are strategically located for a rapid response, when the need arises Calvin will also call on various partners to make sure we reach our SLA.
Calvin has a strong connection to our manufactures ensuring we provide the best service possible, this massively helps with product knowledge and call escalation.
Calvin has a keen interest in motorsport and bicycle maintenance.
Carl joined Mayday in December 2012, as a IT Support Engineer, Carl previously had worked as a IT Support Engineer within local education.
Carl is an extremely knowledgeable conscientious technical engineer, who enjoys meeting clients on a regular basis gaining knowledge of the wide variety of businesses that Mayday IT supports.
2016 was a big year for Carl who gained promotion to Head of Mayday IT , Now managing the department.
Carls goals are to ensure that all clients have a quality service from his engineers, and that they are at the forefront of IT keeping their business running fluidly.
Paul Wilson
Connectivity Team Leader
Whilst working at a local chain of restaurants Paul gradually transitioned into the role of maintenance man, this gave him a taste for troubleshooting various issues. From there he managed to find an apprentice position as a mechanical engineer at Mayday in 2014.
After completing an extensive course on connectivity at Ricoh Wellingborough in 2015 he became part of the MFD connectivity team, specializing in installing devices on client's networks and aftersales support.
In his spare time; Paul enjoys bouldering and life drawing.
Lil MacCormack
Admin & Support Team Leader
Laura Walters
Admin & Support Assistant
Laura has been a member of staff for 5 years now and has worked in the customer service industry for a total of 15 years. She moved to Norwich and joined Mayday in September 2011.
Laura has taken on lots of different roles within the Service Admin Team Leader and accounts department. She started off at Mayday as a Works Controller and is now Service Team Leader.
Laura enjoys interacting with our various customers and enjoys working in a busy office environment.
Laura spends most of her spare time having quality time with her young family. She is an avid walker and enjoys being outdoors. Having recently moved house Laura is becoming a keen gardener.
Donna has been working at Mayday over 7 years and has seen the company evolve and expand over this time. Donna has worked in the finance industry for 18 years and has worked in both Industry and Practice Accountancy.
Donna enjoys challenging herself and has participated in both the 'Only the Brave' and 'The Whole Hog' charity mud runs. She also completed, with her family the 'GoGo Dragons' trail.
Andy Howgate
Technical Engineer
Andy is proud to be Mayday longest serving employee, with over 30 years' service .
As a Service engineer, Andy  mainly services  Ricoh and Toshiba Copier, Printer, scanners.
At customer's premises all over east Anglia. But mainly in the east of Norfolk.
Andy is also a  qualified electronic engineer . His personal interests are riding his motor bike on sunny days, Being a keen astronomer and fully licensed radio ham.
Andy has recently become a proud Granddad.
Nathan Gray
Technical Engineer
Lee Chamberlin
Connectivity Engineer
Sean Foulger
Trainee IT Engineer
I joined mayday in 2018 as a Trainee connectivity engineer, I mostly work with photocopier installations also troubleshooting connectivity issues.
Since joining Mayday, I have learned a lot of new skills within connectivity.
In my spare time I like to watch Motorsport and play video games.
Shane Whiley
Business Development Manager
After travelling the globe, Shane returned to Norfolk to establish a career in sales.
Since joining in 2014, Shane has become a valuable member of the sales department.
With an unstoppable work ethic, Shane's motto is "you get out what you put in".
He has a very active lifestyle, which includes spending quality time with his two young children and daily gym workouts.
Shane has a well-respected client base which he continues to grow year by year.
Kieran Burton
IT Engineer
Kieran joined Mayday IT in 2016 as an IT apprentice. Not long after joining, he left the apprenticeship role and went straight on to being an IT Engineer. After a few years of working in the high pressured IT environment, Kieran has adapted a very crucial role within the IT service team, and has developed a strong relationship with a lot of the IT clients.
Outside of work, Kieran likes to nerd out over science and IT, as well as socialise and go out with friends.
I joined Mayday as an apprentice IT Engineer in 2017.  Progressing on to my current role as IT Engineer. I mostly focus on the installation of our MFD Copiers and the resolving of connectivity issues.  Since joining Mayday I have completed Rioch's Basic Connectivity Engineer and Security Master qualifications.
In my free time I enjoy playing video games and coding.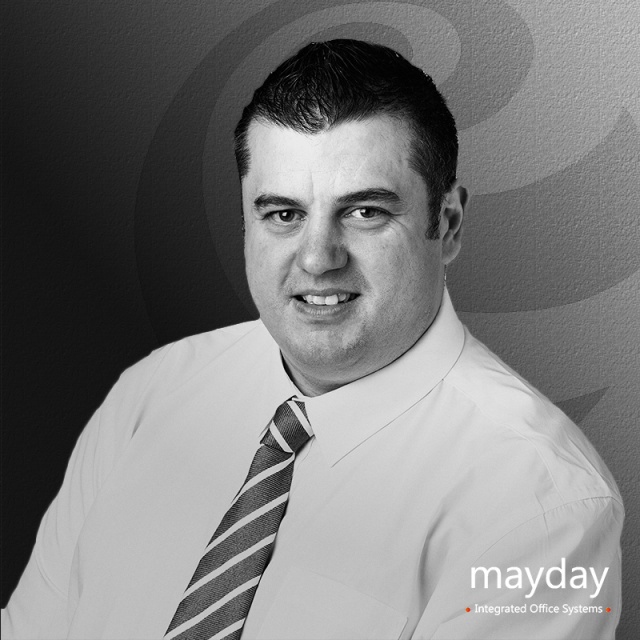 Andrew Wilkinson
Account Manager
Andrew joined Mayday in February 2003 as a Sales Account Manager. Prior to Joining Mayday
Andrew worked within the office supplies and furniture industry.
Having over 25 years' experience in this industry Andrew has a wealth of product
knowledge in traditional office stationery and office furniture. Andrew has developed a strong customer  relationship with the United States American Air Force bases in East Anglia, and also looks after many other key accounts.
Sean Seaman
Warehouse & Stock Control
Sean joined Mayday in 2003 as a delivery driver after serving 15 years with Royal Mail.
His experience and local knowledge has helped Mayday to deliver customers' orders very efficiently. Sean enjoys the logistics involved on a daily basis to accomplish this and will always have time to speak whether it be to discuss your requirements or just a friendly chat.
Anyone who has already met Sean will know that he is easily approachable and nothing is too much trouble.